OVERVIEW:
Decisiones Logísticas is a consulting company specializing in distribution network design and planning. Supported by a team of experienced engineers, the company uses digital tools such as network optimization and data-driven methods such as analytics. Their solutions are practical and based on technical and managerial expertise.
"Don Josué" (a fictitious name), a leading company in Columbian's food industry with more than 60 years of history, sought the expertise of Decisiones Logísticas to organize its distribution network for the upcoming decade.
CHALLENGE:
Using anyLogistix supply chain design and optimization software, Decisiones Logísticas had to design a distribution network for "Don Josué" for the next 10 years. The challenge was further complicated by the fact that the company also intended to launch new products.
The company's distribution network was complex, consisting of:
11 factories
550 cities to be attended
Different products (SKUs) that could be produced at each factory
8 distribution centers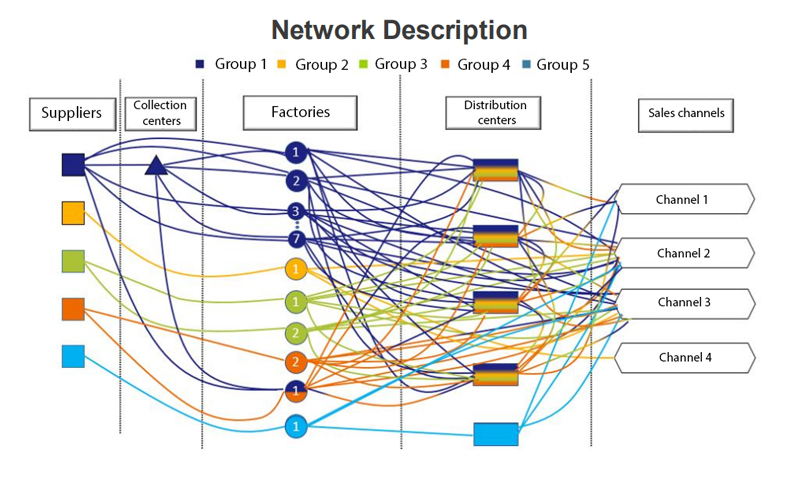 The client's distribution network
The key challenge in this network design project was to align inventory, production, sourcing, and distribution. With transport, supply, and capacity challenges, a robust strategy was needed to ensure that these elements worked together. The task required a clear understanding of the existing sales channels and product organization, as well as the ability to adapt to future needs and changes in the product line.
SOLUTION:
Faced with the complex challenge of "Don Josué", Decisiones Logísticas developed a three-phase solution using anyLogistix tools.
In the first phase, Supply Chain Characterization, Decisiones Logísticas defined the scope, gathered information, and formulated preliminary hypotheses to inform the distribution network design. The second phase, Modeling, involved building, verifying, and validating the model, as well as engaging in various modeling activities. In the third phase, Implementation, Decisiones Logísticas planned actionable steps.
In the initial phase, Decisiones Logísticas established a baseline to understand "Don Josué's" existing operations. Key insights revealed that the new factory would reach maximum capacity sooner than expected, posing a warning. Additionally, the new factory was projected to reduce logistics costs by between 2.2% and 3.4% over the planning horizon. These findings were instrumental in shaping the project's implementation strategy.
In the second phase, Decisiones Logísticas used anyLogistix Greenfield Analysis (GFA) to test potential locations for new distribution centers (DC). They also used it to check the actual locations against demand density in different regions. In addition, the company utilized Network Optimization (NO) to configure optimal demand handling over the planning period.
They made specific changes, such as adding new DCs and adjusting inventory policies in alignment with food logistics needs. These adjustments contributed to a possible reduction in logistics and production costs of between 0.2% and 0.6%.
Unlike other tools, anyLogistix provided a cohesive platform for modeling and implementing complex distribution network designs. Decisiones Logísticas used the insights from anyLogistix's experiments to leverage the existing network for managing new products and enhancing specific service areas.
OUTCOME:
The project undertaken by Decisiones Logísticas using anyLogistix for "Don Josué" had a tangible and positive effect. By focusing on the total logistics cost and not just individual components, Decisiones Logísticas was able to redesign the distribution network and refine the food logistics strategy. This approach led to possible savings ranging from 0.2% to 0.6%, primarily on transportation and production.
The strategic use of anyLogistix, combined with Decisiones Logísticas' tailored approach, highlighted the importance of flexible sourcing and inventory strategies. This led to a more efficient and responsive supply chain system, improving not only cost but also network operation and service levels.
This distribution network design case study subtly illustrates how anyLogistix-specific tools, seamlessly integrated with Decisiones Logísticas' methods, provided an effective solution.
This case study was presented by Enrique Romero Motta, Decisiones Logísticas, at the anyLogistix Conference 2023.
The slides are available as a PDF.