OVERVIEW:
Houlihan Lokey, a global investment bank with expertise in capital markets, financial restructuring, and strategic consulting was commissioned by one of North America's leading healthcare distributors to help revitalize their distribution operations.
CHALLENGE: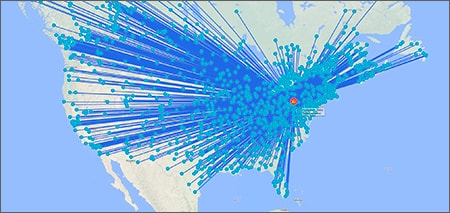 Over the past decade, the specialty healthcare distributor had undergone substantial growth by expanding existing product lines and acquiring complementary businesses. The current single-point manufacturing and distribution network had become stretched as the organization was supporting over two-thousand end-customer locations across North America.
This further manifested in their primary East Coast distribution center which suffered from significant capacity constraints. Also, on the West Coast, the organization felt pressure from both increased distribution costs and expedited customer delivery expectations.
In addition, two factors added complexity to the distribution network. First, many products had inherently different manufacturing and distribution requirements (i.e. lead-time, mfg. processes, etc.). Second, different customer types had unique demand profiles for specific items (i.e. order sizes, shipping times, etc.).
SOLUTION:
Given these changing variables, a new fit-for-purpose distribution network needed to be developed. anyLogistix platform was chosen by Houlihan Lokey Consulting to be the primary engine for a new strategic distribution network design due to the software's robust modeling capabilities and its ability to account for the project's various complex supply chain requirements.
Furthermore, the combination of a straightforward user interface, extensive documentation, and a dedicated customer service team gave Houlihan Lokey confidence that the anyLogistix platform would be the best-fit solution.
To renovate the distribution network the following objectives were established:
Reduce variable operating costs (i.e. transportation, handling).
Improve service levels with a focus on shipping times.
Limit the amount of capital investment (i.e. new facilities).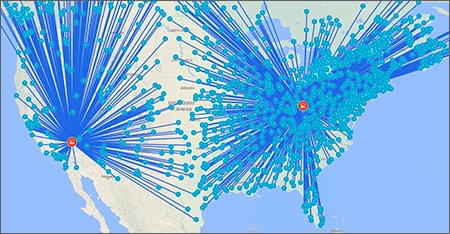 The strategic network design model created by Houlihan Lokey utilized the distributor's transactional records over the prior year to represent demand in the model. This included data from all the organization's current distribution facilities located in the US and Canada. To plan for future distribution requirements, various growth scenarios and supply acquisition volumes were modeled within the anyLogistix platform to target specific geographic regions and product lines.
Leveraging the anyLogistix Greenfield Analysis experiment, Houlihan Lokey was able to determine the optimal distribution network design considering multiple network configurations including point-to-point and hub&spoke distribution. anyLogsitix platform was able to incorporate the organization's requirement to allow certain customers and products to be serviced by specific distribution facilities.
This was vital as it allowed the company's complex customer and product requirements to be fully considered throughout the network design process. In the end, anyLogistix enabled the creation of several distinct design scenarios which were then ranked according to the objectives that had been laid out for the distribution network design project.
OUTCOME:
anyLogistix was integral in strategically designing a revamped supply chain network to include a new West Coast distribution facility. The new network was able to reap the following core benefits:
Operating cost reduction (mainly transportation driven) of over 10%.
Improved customer service levels (within defined shipping time horizon) by 25%.
A new network configuration positioning the company for future growth within its target customer segments and geographic locations.
Lastly, understanding the ROI of all required capital investments was of utmost importance as the distributor was owned by a private equity firm. Houlihan Lokey took advantage of the robust reporting capabilities within the anyLogistix platform to concisely quantify and communicate the company's complex distribution scheme and required capital investment to key stakeholders in a resonating fashion.