PURCHASE ANYLOGISTIX STUDIO EDITION
Select your professional field:
COMMERCIAL
---
for non-consulting commercial companies and government organizations
CONSULTING
---
for commercial organizations engaged in consulting services
ACADEMIC
---
for research in academic institutions
Subscription
$18,000/year
The price does not include VAT, sales tax, withholding tax or any other tax(es) or fee(s) which may be applicable in the country of purchase
For Advanced Transportation Optimization option
contact our partner
in your region.
Read more about the feature >>
Features
Full Studio Edition
Regular updates
Advanced technical support
Multiple year/user discount
get a quote
Special consultant program
Contact us for more details
contact us
anyLogistix Technical Support
If you are anyLogistix user, you may easily contact our support team via the Get support button in the anyLogistix development environment. You may also attach models to your request.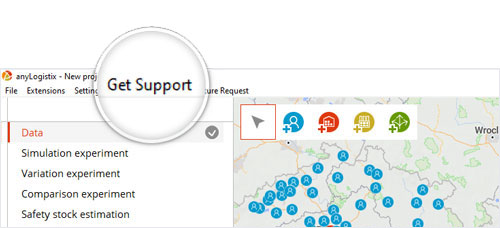 anyLogistix technical support:
We provide technical support to all users who have an active subscription or maintenance.
Technical support includes:

answering how-to questions about ALX
recommendations on how to solve a problem
the development of small examples to help start with the product or solve a problem

We answer 80% questions within 24 hours and 90% within 48 hours. This is not just a statement this is also a KPI for our technical support team.
Each answer can be customer rated. 95% of the responses get 5-star rating.
If consulting support is needed, we offer a network of strategic partners.