What is route optimization software?
For the last decades route planning and optimization has become more complex than ever. The reasons are familiar: more frequent deliveries, complex product portfolios, increasing SLA restrictions... Such challenges cannot be addressed with traditional tools, but need sophisticated route planning solutions, which would make the travel plans more agile and responsive to sudden changes in supply chain processes.
To face these challenges, companies are adopting transportation optimization software. With it, managers can create a model with an optimized milk run route and benefit from a detailed route schedule which would help them track order status throughout the itinerary. More advanced transportation optimization software allows managers to consider route's detailed attributes, including:
Distance covered by each vehicle and the number of vehicles needed to complete the delivery
Clients demand and SLA requirements
Calendar constraints and delivery time windows
Visual representation of a transportation network on a map and its relation to real roads
We talk more about the capabilities of advanced route optimization software in our dedicated white paper. There we also provide hands-on resources to help you design a route network and use anyLogistix for further optimization.
Why anyLogistix route optimization software?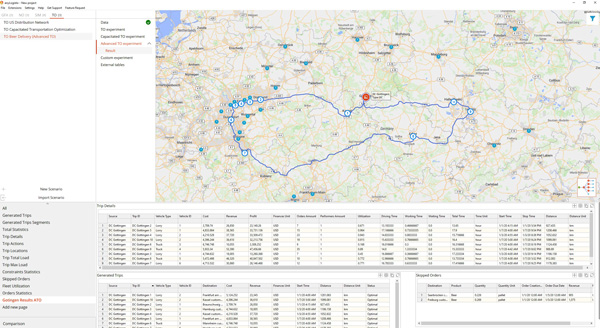 anyLogistix is advanced route optimization software that supports such granular planning.
Transportation managers use it to organize routes in supply chain models considering the dates when products should arrive at each location; this ensures high service level attained. Along with optimized routes, accurately displayed on a map and relative to real roads, the software offers managers a detailed order transportation schedule. Managers can also include in the schedule the client's delivery time windows to make sure that all time-related requirements are met.
For fleet managers, the anyLogistix route planning software allocates deliveries to the most suitable fleet mix, helps choose between own and third-party vehicles, and see in advance how much time a driver will spend on the road and on delivery processing. This enables managers to create a route schedule compliant with HoS restrictions.
Route planners and analysts would benefit from software integration with the company's IT infrastructure, including BI, ERP, and TMS tools, and from having statistics and figures come in a visually attractive way.
Strategic transportation planning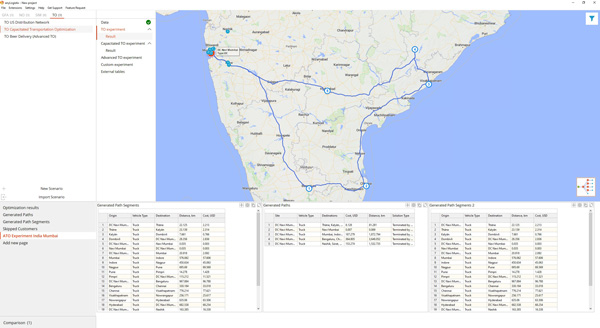 anyLogistix support for strategic and tactical level planning allows for determining how changes in transportation policies would affect operations over time. Here're some of the questions you can answer with anyLogistix route planning software:
How would my costs and profit change if I needed to service another client?
How would an introduction of a new type of vehicle to my fleet impact service levels?
What if service time windows for one or some clients changed?
Would the itinerary configuration change if processing time at one of the sites was altered?
Would the service level remain the same if another product was included in the shipment?
What if we stop serving one or several customers?
How do we maintain a high service level if demand increases?
Optimization of large-scale route networks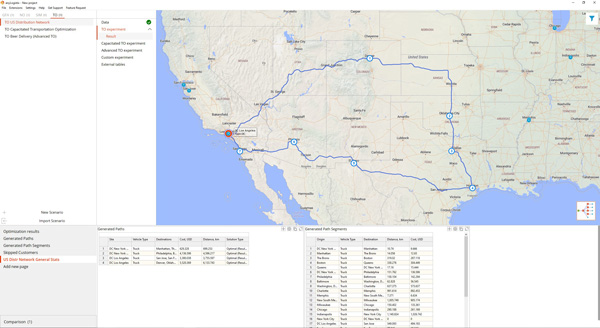 anyLogistix supports an advanced transportation optimization experiment powered by VeeRoute optimization engine. The experiment is designed to test with large and complex itineraries, including hundreds, or even thousands, of delivery points and provide fast results. With the advanced experiment, users can consider detailed variables, including:
Total travel distance restriction
Multiple vehicle types per run
Orders separately for each client
Different products
Order due date
Driver shift time
Weekly-based time windows
The experiment provides route optimization solutions for multiple business objectives such as profit, distance traveled, and delivery time. Also, optimization for the combined objectives of fleet utilization and distance traveled is possible.
The experiment is free to use for up to 100 delivery points per request, and fair priced subscription tiers are available for those with greater needs.
Experience anyLogistix general and advanced route optimization capabilities with our software tutorials and trial version of the route optimization software.