1. NEW EXTENSIONS MECHANISM — CREATE YOUR SUPPLY CHAIN DIGITAL TWIN
anyLogistix Studio introduces streamlined extension development with a fully integrated AnyLogic modeling environment. By integrating with AnyLogic, ALX provides you with the ability to customize every element of a supply chain, considering all the details you need. You can even create a digital twin of your supply chain, with detailed modeling of inside the four walls and data from external sources, to keep your model up-to-date.
2. PERFORMANCE IMPROVEMENT — MODEL SUPPLY CHAINS FASTER
ALX performance has been significantly improved, especially for those who work with large scenarios. Opening scenarios and database operations are now more than 10 times faster, and editing data tables of any size is fast and responsive. Get the results you need, faster!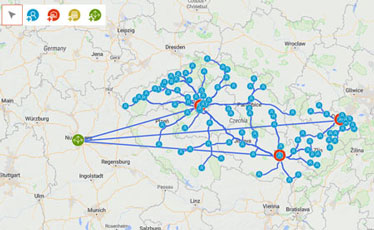 3. REDESIGNED HELP — GET THE INFORMATION YOU NEED
Thanks to your feedback, we have completely redesigned anyLogistix help. With the new structure, and many updated articles, you will easily find the information you need, from the basics to in-depth specifics. The new help also includes detailed example descriptions to help you study further and implement the ideas in your models.
Try it now>>
4. HiDPI SUPPORT — GET THE MOST FROM YOUR HIGH-RESOLUTION DISPLAY
If you work with a high-pixel-density screen, using ALX is now much more comfortable. The interface now offers improved support for HiDPI and Retina displays. We have also adapted GIS tiles for high resolution displays, so you automatically get the tile resolution you need.
5. A GREAT NEW EXAMPLE — SEE, LEARN, DEVELOP
Version 2.9 provides users with updated examples and a new one — the Yoghurt Factory. It is a great illustration of anyLogistix Studio's capabilities. Every facility in the model was customized using the ALX extensions mechanism. Since the yogurt production is a continuous process, the factory model was built using the AnyLogic fluid library to capture how the inside four walls processes may influence the supply chain as a whole.
6. IMPROVED UI — DEVELOP YOUR MODELS EASIER
We have continued to improve the UI to make it more user-friendly and enable easier model development and analysis.
If you have any questions, please feel free to contact us through the Contact us form or using the Get Support button in ALX.
Experience anyLogistix for yourself, come and meet us!