The new anyLogistix 2.14 includes a host of improvements related to different areas and functions of the tool. Let's see what this new version brings!
Import/Export Improvements
As in each of the last few releases, we continue to simplify the import/export process, with the goal of making ELT and data processing for ALX a smoother experience. In ALX 2.14, the enhancements are:
Error messages give the exact location of the issue in the Excel spreadsheet. This has been one of the most asked-for features. Now it's much easier to troubleshoot import errors, beacuse you know exactly what they are.
Column headers for policy parameters. This makes working with external databases more intuitive by removing the need to work with unnamed columns.
Added support for Excel formulas. If you import an Excel file that contains cell values calculated by formulas, ALX will read the values of cells – helping simplify data preparation. For this feature to work, you must select the checkbox "Scenario contains formulas" in the Advanced options when importing.
User-defined columns do not affect the import process. Convenient for cases when the actual Excel file contains more data columns than needed for the scenario.
New Help system
The updated Documentation system is now embedded into anyLogistix software. It includes a clean and fresh design, dark mode, text resizing, and last but not least, a much better and quicker search. Check out its web version too!
New anyLogistix help interface.
Other improvements
CO2 cost data added to Network Optimization statistics.
Unicode support added to the "Export statistics to a file" post processor.
UI improvement: the active tab will remain selected as you browse other scenarios or experiment settings.
Ability to group objects by selecting them and right-clicking on the map.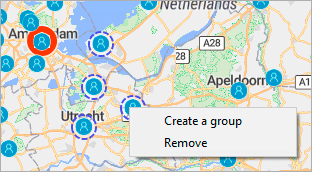 Group objects menu.
To start using this version, update directly from the anyLogistix software or, if you have not installed it, download the free Personal Learning Edition from the website.
You can learn more about anyLogistix and its capabilities from our webinar series and demo videos. Alternatively, stay up to date with anyLogistix videos by subscribing to our YouTube channel.