Seminar: Introduction to Supply Chain Resilience — Coping with and Thinking beyond the COVID-19 Pandemic
Date and time: May 28-30, 12 — 3 pm UTC (convert to your local time)
Place: online
Language: English
Attendance fee: 150 EUR (academia) / 200 EUR (commercial)
* 75 EUR special rate for full-time bachelor and master students
Overview
The COVID-19 pandemic has stress-tested supply chain resilience across industries and sectors. Many were found ill-prepared and with insufficient recovery capabilities. As a result, businesses and governments are calling for urgent supply chain reviews, however, the expertise in supply chain resilience needed for these reviews is limited.
This seminar offers a concise yet comprehensive introduction to supply chain resilience from management, modeling, and technology perspectives. It addresses the topics of supply chain risks and resilience in more depth, describing their major features and explaining how to mitigate supply chain disruptions and promote recovery.
Numerous practical examples and short case studies help illustrate theoretical concepts. There is a special focus on supply chain resilience modeling and management using digital twins developed in anyLogistix. Throughout the seminar, the COVID-19 pandemic is specifically considered.
Professionals, researchers, and students will benefit from the structured and concise presentation of the concepts, principles, and methods of supply chain resilience management, modeling, and technological implementation.
Speaker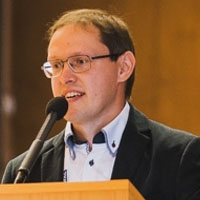 Prof. Dr. Dr. habil. Dmitry Ivanov (Berlin School of Economics and Law), award-winning scholar and thought leader in supply chain resilience and digital supply chain research – with 10 books and over 100 research papers in peer-reviewed academic journals published over the last 20 years. Editor of International Journal of Production Research in the area «Adaptive Supply Networks, Resilience and Disruption Management». For over 20 years, he has taught courses in operations management, supply chain management, logistics, management information systems, and strategic management courses at undergraduate, master's, PhD, and executive MBA levels at universities worldwide.
Prof. Ivanov is author of the anyLogistix educational complex for supply chain optimization and simulation that is in use at more than 100 universities worldwide. This educational complex is comprised of an ALX book and an Educational Toolkit containing case studies that can be used to teach and learn anyLogistix understanding green field analysis, network optimization, simulation, supply chain, production, inventory and sourcing simulation, and transportation optimization both conceptually and technically.
Supporting literature
Ivanov D. (2021) Introduction to Supply Chain Resilience, Springer Nature, Cham, ISBN 978-3-030-70490-2
Ivanov D., Tsipoulanidis, A., Schönberger, J. (2021) Global Supply Chain and Operations Management: A decision-oriented introduction into the creation of value, Springer Nature, Cham, 3rd Ed. (Chapters 4 and 15)