anyLogistix now features a new Advanced Transportation Optimization experiment for quickly solving large-scale complex transportation challenges. The experiment is based on specialized VeeRoute algorithms and is free to use for up to 100 delivery points per request and fair priced subscription tiers are available for those with greater needs.
Supply chain networks quickly become more complex and more difficult to optimize as they increase in size. For a supply chain delivery network serving hundreds or thousands of customers and orders each day, it is necessary to consider numerous variables relating to facilities, fleets, products, workforce, and customers. Previously, processing these variables in line with company objectives required compute times that made optimization impractical and, in some cases, not possible at all. Now, the anyLogistix Advanced Transportation Optimization (Advanced TO) experiment changes this.
Transportation optimization with more variables and objectives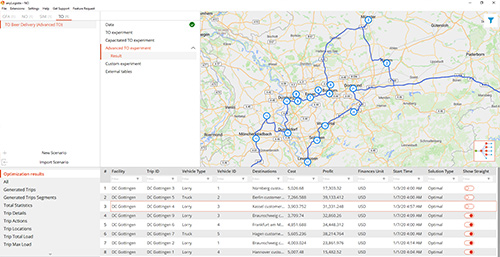 The new experiment provides advanced transportation optimization solutions for multiple business objectives such as profit, distance traveled, and delivery time. Also, optimization for the combined objectives of fleet utilization and distance traveled is possible.
In addition to seeking optimal configurations for more objectives, the number of variables that can be considered in an experiment have increased and now include:
Total travel distance restriction
Multiple vehicle types per run
Real orders (non-aggregated)
Different products
Order due date
Driver shift time
Weekly-based Time Windows
Demand revenue
Faster supply chain transportation optimization
Despite considering more variables and objectives than previously possible, the Advanced TO experiment makes anyLogistix much faster with large-scale scenarios. Results are produced in minutes for large-scale scenarios and, for example, those involving 50 delivery points may obtain results 180x faster than before.
A better supply chain with anyLogistix
With anyLogistix advanced transportation optimization, it is possible to discover optimal delivery routes for a supply chain transportation network and the resources required to run it.
By considering a variety of company objectives Advanced TO experiments can help meet KPI for customer service levels, efficiency, and cost. Furthermore, in anyLogistix, the wider impact of changes to a transportation network on a supply chain can be tested and analyzed – so you can safely and quickly innovate and develop your supply chain.
If you would like to learn more about transportation optimization and anyLogistix, our case studies offer deep insight and examples from industry. And, if you have questions regarding anyLogistix in general, please get in touch with us directly.